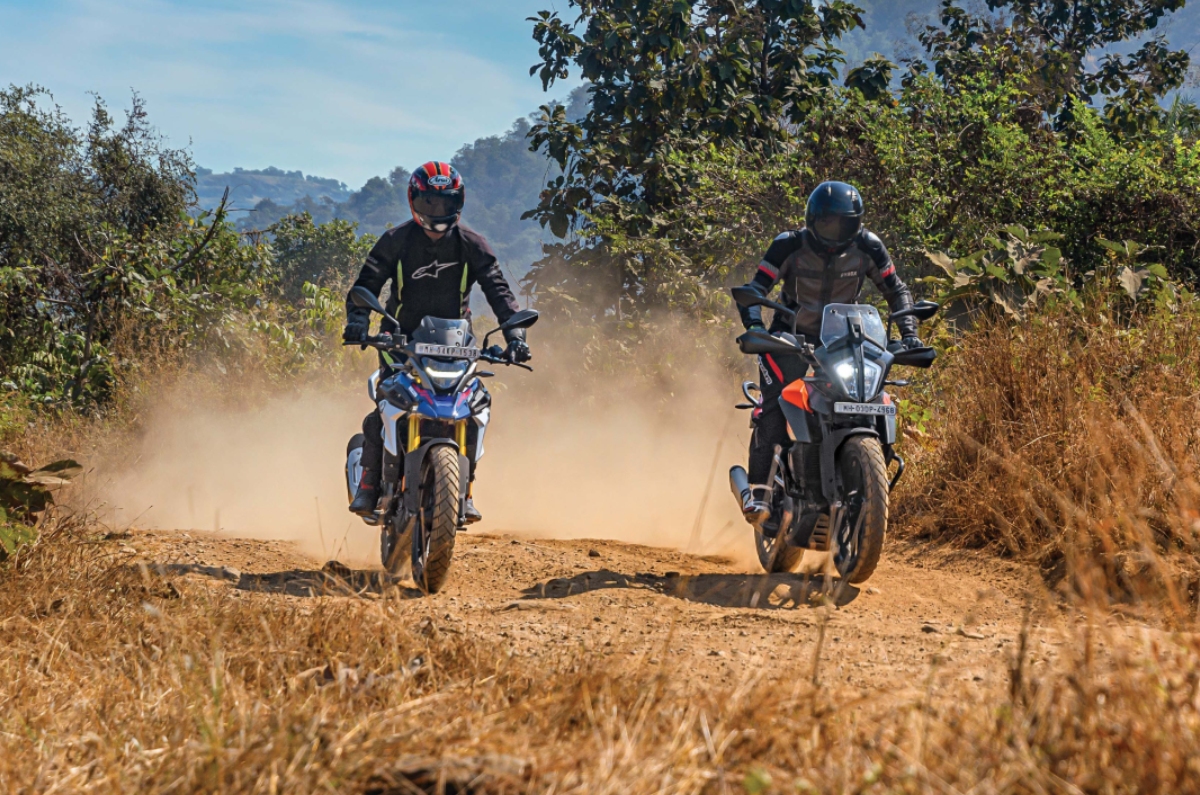 When the time came to plan this comparison, Rishabh and I excitedly spent quite a few hours looking for picturesque locations with terrible roads around them. This isn't something we usually do, but we knew the KTM 390 Adventure and the BMW G 310 GS would have our backs, even if the journey was three times the usual distance and riddled with bad roads. That confidence right there, and the motivation to go the distance, are what makes ADVs so special.
READY TO RACE
We had a long day ahead of us, which is why we set out at 4am, groggy yet smiling in our helmets. With near to no traffic and the urgency to make it out of the city before people began waking up, we got a good taste of the performance on offer. Right off the bat, let me confirm that the spec sheet doesn't lie and the 390 Adventure is a much quicker motorcycle. The strong power delivery that comes in after 3,000rpm on the KTM was proving to be quite addictive as well. This combined with the smooth gearbox and bi-direction quickshifter made for a really likeable powertrain package, especially on a highway.
That doesn't mean the GS is at a complete loss when it comes to the engine. It was averaging about the same speeds that morning, although it felt like it was being ridden closer to its limit. It's when you slow down to city speeds, however, that you realise the BMW has a more tractable engine and gearing set-up, which means it can putter around in a way the 390 can't.
The 390 Adventure's seat is more spacious.
While the GS still isn't as free of vibrations as the 390 Adventure, it is quite a bit more refined in its latest form. BMW has also fixed the stalling issue on the updated model and the new ride-by-wire system feels smooth. Nevertheless, the BMW's motor is overshadowed by the energetic powertrain on the KTM.
The KTM's power advantage is supported by its competitive kerb weight that's only 2kg more than the BMW's, at 177kg. The kerb weight figure becomes even more impressive when you account for the larger 14.5-litre fuel tank on the KTM. Thanks to its tall sixth gear, the 390 is also more fuel efficient, which should give it quite the advantage when it comes to range on the highway.
MAKE LIFE A RIDE
Speaking of highways, that's where these two are at their best. You will find yourself sitting upright on both bikes, but it's the GS that has slightly more comfortably placed foot pegs, as the KTM's pegs are slightly rear set. That said, the latter's seat is more spacious, allowing you to move from time to time, which is something you'll be appreciative of over a long journey.
BMW G 310 GS vs KTM 390 Adventure: Price and specifications
BMW G 310 GS
KTM 390 Adventure
Price (ex-showroom, Delhi)
Rs 2.90 lakh
Rs 3.05 lakh
Engine
313cc, single-cylinder
373.2cc, single-cylinder
Power
34hp at 9250rpm
43.5hp at 9000rpm
Torque
28Nm at 7500rpm
37Nm at 7000rpm
Power to weight
194.2hp/tonne
245.7hp/tonne
Wheelbase
1420mm
1430mm
Ground clearance
220mm
200mm
Kerb weight
175kg
177kg
Seat height
835mm
855mm
Fuel tank
11 litres
14.5 litres
Front suspension
41mm USD fork
43mm USD fork
Rear suspension
Monoshock
Monoshock
Suspension travel
180/180mm
170/177mm
Front brake
300mm disc
320mm disc
Rear brake
240mm disc
230mm disc
Tyre size (front)
110/90-R19
100/90-19
Tyre size (rear)
150/70-R17
130/80-17
Despite their long wheelbases and 19-inch front wheels, both motorcycles are quite quick to turn in, but it's the KTM that feels more dynamic. This doesn't come as a surprise as it's also the one with a firmer suspension set-up. The BMW's softer set-up, meanwhile, gives it the edge when you encounter a broken path. It'll glide over bad terrain and also has better standing-position ergonomics, as the handlebar is within reach, unlike the KTM's, where you are required to lean too far forward and down. The BMW's low-speed tractability and 20mm ground clearance advantage also help it in such scenarios.
Both bikes use 19-inch alloy wheels and USD forks, but the GS has more travel.
As for the KTM, it can take on every obstacle the GS can, but it isn't as inclined, or easy. The suspension is a little less forgiving off-road and the awkward ergonomics don't help either. It also has an unreasonably tall seat height of 855mm. While the traction control system on it is quite basic in the way it cuts power, you can switch it off, and the same applies for the rear-wheel ABS. The latter is a function that is sorely missed on the GS. As for the brakes, the ones on the KTM offer better stopping power, but the lever feedback from both are about the same. Both bikes here ride on Metzeler Tourances which do a fine job both off- and on-road. That said, KTM was recently forced to use MRFs because of an import issue, but the company has said it hopes to make the switch back soon.
In terms of equipment, The BMW comes with a luggage rack, whereas the 390 gets crash protection and a larger windscreen as standard. While the updated GS does get adjustable levers and bright all-LED lighting, the KTM has a lot more on offer.
The KTM's TFT display has segment-leading features.
The KTM's feature list also includes hand guards, traction control, IMU-assisted cornering ABS, an up-down quickshifter and full-colour TFT display with Bluetooth connectivity. The instrumentation displays a huge amount of information and also has navigation, which is a must on a motorcycle that has been designed for long-distance travel and exploration. The GS, meanwhile, carries forward the same LCD display as before. While this unit is quite informative, it doesn't come close to the KTM's and also looks outdated.
BMW G 310 GS vs KTM 390 Adventure: Performance
BMW G 310 GS
KTM 390 Adventure
0-60kph
3.09 seconds
2.82 seconds
0-100kph
7.51 seconds
6.15 seconds
20-50kph
2.43 seconds
2.33 seconds
30-70kph
4.21 seconds
3.95 seconds
50-80kph
4.12 seconds
4.03 seconds
60-0kph (Braking)
16.73m
16.05m
City (Fuel Economy)
32.02km
27.9km
Highway (Fuel Economy)
34.21km
35.8km
What isn't dated are the striking new graphic schemes on the 2020 G 310 GS. The one you see in the pictures is the 'Style Rallye' and it gets contrasting red and blue paintwork. The frame on it is red, unlike the older bike that had a black-coloured frame. This particular colour scheme accentuates the GS styling incredibly well. While we are on the subject, it would be nice to see KTM offer the stealthy matte black colour option seen on the 250 Adventure, on the 390.
THE ULTIMATE RIDING MACHINE
BMW recently made a price correction and reduced the 2020 GS' price by almost 20 percent (Rs 59,000). At Rs 2.90 lakh, the BMW also costs Rs 20,000 less than the KTM 390 Adventure. However, when it comes to service, the cost of general service items are slightly more affordable for the KTM. That said, the BMW has a service interval of 10,000km, while the 390 needs one every 5,000km. KTM, meanwhile, has a much wider service network.
The 2020 BMW G 310 GS addresses two of the biggest issues with the BS4 model - refinement and pricing, resulting in a much better package than before. That being said, the KTM 390 Adventure is worth the additional dough, especially if you want something with unmatched performance and equipment at that price point.
Also see:
Bajaj Dominar 250 vs Suzuki Gixxer 250 comparison
Meteor 350 vs H'ness CB350 vs Imperiale 400 comparison
from Autocar India https://ift.tt/3sZL33E