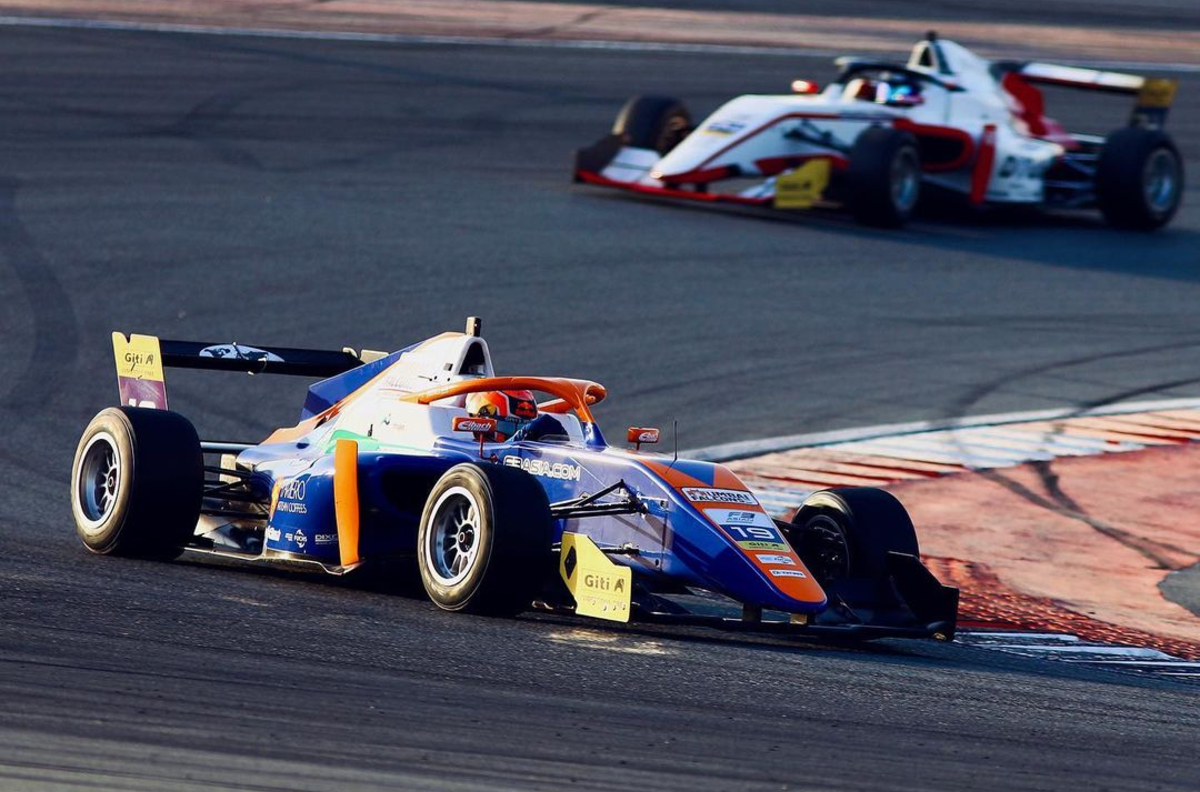 Indian F1 hopeful Jehan Daruvala handed Mumbai Falcons a podium finish with a 3rd place result on what was the all-Indian team's debut outing in the F3 Asian championship. The opening round wrapped up at the Dubai Autodrome and while it was a far-from-perfect outing for the team, it has plenty of positives to take away, with both Daruvala and Kush Maini showing some impressive pace.
Mumbai Falcons finish Race 1 on podium with Daruvala's 3rd place
Daruvala goes from 19th to 7th in Race 3
Maini unable to score any points, but shows strong pace
Race 1
As Daruvala gears up to undertake a second season in Formula 2 with Carlin, he's spending the winter break competing in F3 Asia. And he isn't the only F2 driver on the grid – Renault Sport Academy driver Guanyu Zhou and Williams junior driver Roy Nissany join him, making it a competitive field.
Those finishing in the top five of the championship are eligible to earn FIA Super Licence points. The Super Licence, of course, is necessary for those who want to compete in Formula 1; so this outing should help Daruvala as he looks to make the step up to the pinnacle of racing.
Starting Race 1 from 4th place, Daruvala had to take evasive action at the start after being cut off by a driver ahead. But he recovered, and it wasn't long before started chasing down Nissany ahead of him. With a car right on his tail, he couldn't make up any further places and crossed the chequered flag in 3rd place, behind race winner Zhou and Nissany.
Maini's race was hampered after he made contact with Rafael Villagomez on the opening lap. Nevetheless, he clocked the second fastest lap time, which secured him a front-row start for Race 2.
Race 2
Unfortunately, Maini couldn't enjoy the fruits of all his hard work in the previous race as a brake pedal issue meant he couldn't even make it to the starting grid. This left Daruvala as Mumbai Falcons' only driver in the race. He pulled off a plucky move on the very last lap to overtake Nissany and secure a 7th place result and some crucial points for the team.
Zhou ended up winning the race yet again, with Dino Beganovic and Isack Hadjar completing the podium.
Race 3
Race 3 saw a dramatic start with Daruvala and Maini making contact in an incident that also took out Zhou. Daruvala was able to rejoin the race and embarked on a truly impressive comeback drive on what is a notoriously difficult-to-overtake track. He battled his way up from 19th place to cross the line in 7th, setting the fastest lap of the race in the process. After the race, he even admitted that he "had the pace to win".
Maini was also able to continue racing, but couldn't replicate Daruvala's comeback and finished down in last place. Pierre-Louis Chovet ended up winning the race from pole position, ahead of Beganovic and Nissany.
2021 F3 Asia results after Round 1
After Round 1, Daruvala has picked up 27 points to slot into 7th place in the overall standings, just one point behind Ayumu Iwasa. Maini didn't collect any points, but should he pull off an error-free run in the next round, he's shown that he has the pace to bag some strong results.
In the Team Classification, Mumbai Falcons currently stand 5th overall out of seven teams. But the team is just one point behind Hitech Grand Prix in the standings.
The F3 Asian Championship will now head to Abu Dhabi's Yas Marina Circuit for Rounds 2 and 3 on February 4-5 and February 6-7, respectively.
Also see:
2020 JK NRC: Sandeep Kumar secures LGB Formula 4 title
from Autocar India https://ift.tt/2MhAkkw